< Back to overview
The Heretic Challenge Returns
Unlock your very own Heretic Combat Mule!
---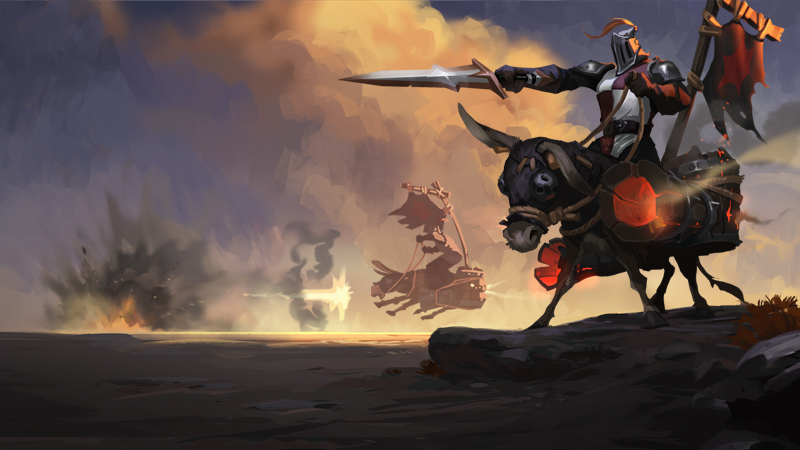 The chill of fall is beginning to creep into the air... and the Heretic Challenge is back! For the entire month of September, earn points for open-world activities, unlock chests to get valuable loot, and claim your very own Heretic Combat Mule.
Mighty Mules and Heretic Decor
HERETIC COMBAT MULE: This month's Challenge brings back the Heretic Combat Mule, a war machine from the twisted minds of Heretic saddlers. The Combat Mule fires a powerful cannon shot that knocks back and slows targets, but watch out for its massive recoil!

AVATAR RING: Adventurers who rack up enough total Challenge Points will also earn the Heretic Challenge Avatar Ring. This non-tradable item permanently unlocks this crazed, ramshackle avatar border for one character, or can be traded to the Vanity Merchant for one Adventurer's Token.

SEASONAL SPECIALS: All month long, reach weekly goals to unlock Heretic Challenge Chests. In addition to valuable rewards like Adventurer's Tomes, Silver, and resources, you'll also have a chance to unlock special furniture items like the Heretic Lantern, Heretic Junkpile and Heretic Scarecrow.

As always, you can earn Challenge Points by gathering, fishing, farming, and killing monsters. Points count simultaneously toward a daily bonus, a weekly unlockable chest, and the monthly mount and avatar ring rewards. So log in, head out into the open world, gather points, and claim these rewards while they last!
---
Latest News
---
Latest Posts
---
Latest Videos
---