< Back to overview
Final Beta Start Time Revealed!
Find out exactly when Final Beta will go live for you.
---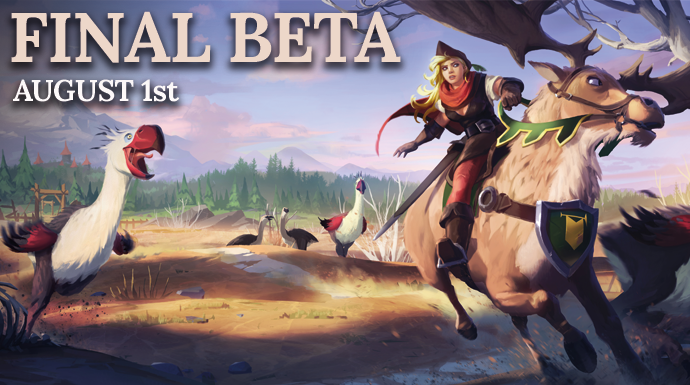 There is only one more week to go until the Final Beta, but when exactly can you start playing? It's time to find out!
Start the countdown, because Final Beta will go live on August 1, at 12:00 UTC!
Legendary Founders will have immediate access to Final Beta, while Epic Founders will be able to join on August 2, at 12:00 UTC, and Veteran Founders can hop on the live server on August 3, at 12:00 UTC.
Not sure when 12:00 UTC is where you live? Here is 12:00 UTC in several timezones:
05:00 a.m. PDT (Los Angeles)
08:00 a.m. EDT (New York)
14:00 CEST (Brussels, Berlin, Paris)
22:00 AEST (Sydney)
Start Your Adventure in the New World!
Final Beta starts with the server wiped clean, and a brand new world to explore, as well as many new and reworked features. Here is a quick overview of what you can expect:
New World: Royal Continents and The Outlands
Biomes: Swamps, Steppes and Mountains
New Powerful Artifact Weapons, Off-Hands and Armor Sets
Reworked Guild vs. Guild Battles
New Reputation and Crime System
Reworked Destiny Board
… and more!
Want to learn more about the upcoming Final Beta? Check out the Final Beta update page here!
Secure Your Final Beta Access
If you do not have a Founder's Pack yet, secure one through our shop and you will be able to create your own adventure in Final Beta next week!
Already an Epic or Veteran Founder? Upgrade your Pack for bonus goodies, and earlier access to the Final Beta!
Not only will you be able to play Final Beta and receive valuable items, you will also be supporting the development of Albion Online, helping it become an even better game!
---