< Back to overview
Hide and Seek Holiday Event
Uncle Frost's helpers have been kidnapped! He needs your help to save them, and he's willing to pay!
---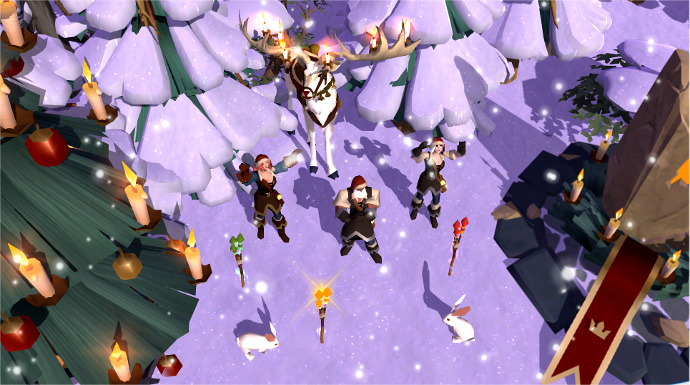 Warriors of Albion!
Uncle Frost is asking for your assistance. Three of his most trusted helpers were kidnapped by a group of foul bandits. These truly brave and honorable assistants are the only ones who have the correct permissions to open the chests where the holiday toys are stored. They were loyal to Uncle Frost and did not give in to the demands of the bandits. Now, these trusted helpers have been abandoned by the bandits in the wilds of Albion and Uncle Frost needs your help finding them.
The good boys and girls of Albion will be heartbroken if Uncle Frost has nothing to put in their stockings. And poor Uncle Frost will be very upset that he has nothing to give to them. They may even stop believing in Uncle Frost!
This will never do. Uncle Frost is offering rewards to the player or players that find his Helpers! Please join up with your friends and allies to help Uncle Frost find his missing Helpers! He is counting on the brave and courageous warriors of Albion to ride out and rescue his most trusted friends and assistants.
Join the Event!
On December 10 at 19:00 UTC, three Uncle Frost's Helpers will be hidden somewhere in the world. One at a time, their location will be revealed in an increasingly more precise manner, and your mission is to find them and rescue them. Sounds easy enough? There's a catch - as you know, easy and Albion don't exactly go hand in hand. The Helpers will be hidden throughout PvP enabled zones and you will have to stand next to them for a few minutes to rescue them, so watch your back or better yet - bring a group of friends!
Once you are standing next to a Helper, they will promptly ask you to stay close while they teleport to safety. Confirm via the /say chat that you will take care of the Helper to start the timer!
What's in it for you?
Saving a Helper does not only grant you eternal gratitude of Uncle Frost, but also bears rewards!
1st Helper requires 4 minutes to rescue.
Reward: Master's Hellish Bolts Artifact (Tier 6) + 1x Castle Chest
2nd Helper requires 6 minutes to rescue.
Reward: Master's Fiend Set Artifacts (Tier 6) + 1x Castle Chest
3rd Helper requires 8 minutes to rescue.
Reward: Saddled Direbear + 1x Castle Chest
Rewards are only given out once per Helper and only to the first player to meet the required time, regardless of the size of their team.
Will you join the event? Do you have any questions? Let us know in the comments below or on our forums!
---
Latest News
---
Latest Posts
---
Latest Videos
---