< Back to overview
Guild Spotlight: ZORN
ZORN, united through a common goal, has already proven that they belong to the top of Albion's forces. Learn more about this powerhouse of a guild in this week's guild spotlight.
---

In this week's guild spotlight we are featuring the German guild ZORN. I sat down with Lugzi, the guild leader of ZORN, to talk about the past, the now and the future of his guild. Enjoy!
One Guild, One Game and One Goal
At the end of the summer alpha in 2015, ZORN was created out of the guild ToXiC. After the former leader of ToXiC, Ger'ar, decided to turn his back on Albion Online, the core group decided to stay together to keep playing and progressing united as a guild. The result of that decision was the creation of ZORN, one of the currently leading forces of Albion Online.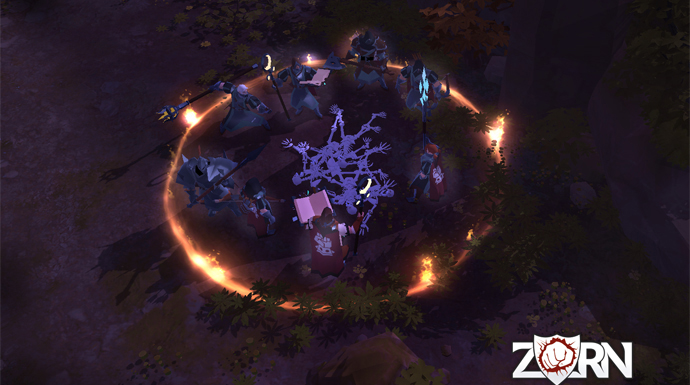 ZORN is a pure Albion Online guild with just a single goal: Competition!
Lugzi describes the goal of his guild as following:
"Our guilds goal is to achieve the highest possible level of PvP. We want to be able to challenge every other guild in any aspect of the game, regardless of it being small-scale PvP, large-scale zerging or territorial warfare. It is not about having more territories than the other guilds but being able to actually compete with any other guild in Albion Online!"
While all of ZORN's member are doing their fair part of supporting the guild, like most guilds ZORN also has a few members that are a crucial for the actual success and the achievements ZORN made in Albion Online.
"It is a tough topic, involving lots of different names I would like to call out but I will leave it to the most consistent ones, which have accompanied me from nearly the very beginning of the guild. Reekon, formerly known as Berengar, Whopper and Crankstar are the names I'd like to highlight the most, since they worked with me through tough times. As for Final Beta I also need to give credit to Boo, Kargador and Kleist, who helped out at organizing and structuring every tiny bit of the guild. The list of people I would like to thank is still very big though and a lot of other people are also worth mentioning. Especially our farmers and gatherers, some of them are at the highest ranks, are of most importance to our guild. Without them we would have never come this far!" Lugzi responds on the question to name some key members of ZORN.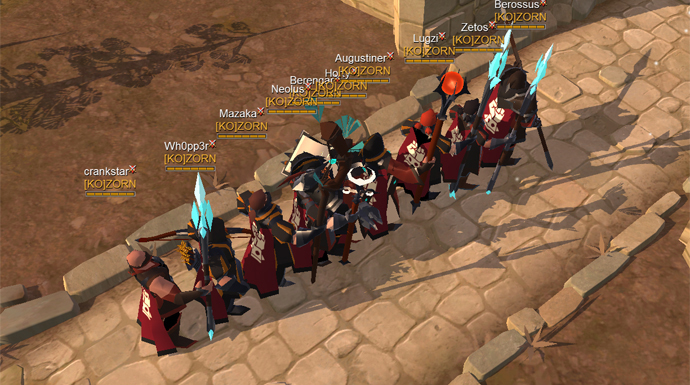 From KO to TY
Every good leader knows that a reliable ally is one of the strongest assets you can have in times of war. ZORN always understood the advantage of being in a strong alliance. In the last Closed Beta test ZORN was leading the KO alliance, which owned a huge part of the eastern continent.
Yet, an alliance is not the only way for ZORN to achieve their goals. To overcome logistic shortages and a decaying count of active members within the KO alliance, ZORN temporarily merged with their alliance partners Vanguard and Le Consortium Horizon into a massive guild called Kinetic Order. Success and size of Kinetic Order kept growing with each battle against their enemies.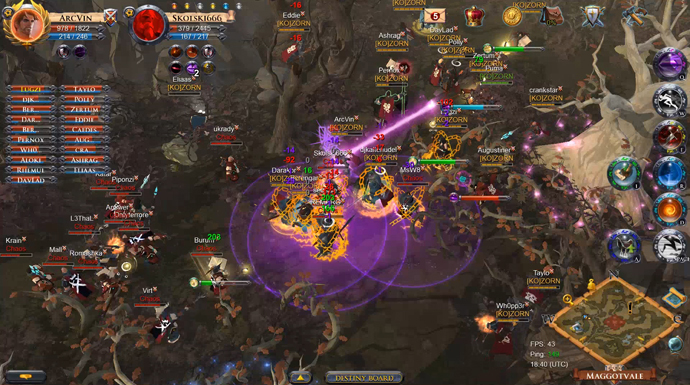 Several weeks later, looking back on a time full of fought battles and after their alliance partners were taking a break, ZORN reverted back into the guild we know today, keeping up the war against Red Army until both sides agreed on a peace treaty.
"We were one of the few guilds which eventually finished the Closed Beta with all their original territories. Those territories we claimed on day one and which we hold active until the very end," Lugzi proudly tells me.
The Castle Event was another big achievement for ZORN. Seeking new allies, ZORN allied up with another German guild called Blitz, formerly known as Schlechtwetterfront. The newfound cooperation ended up achieving them each a logo.
After the success of the Castle Event, both guilds combined their forces into a single guild at the start of Final Beta. Lugzi elaborates:
"Kargador and his guys are a great addition to our roster and they played a major role in our current position in the Final Beta. His stream is also very popular and I can only recommend to take a look @twitch/karga_dor."
In Final Beta, ZORN founded, together with T I T A N S, the [TY] Tryhards alliance. As of today, the Tryhards alliance is made up of ZORN, T I T A N S, Forsaken and Almas Mortas. They are currently dominating a huge part of the north-western Outlands. According to Lugzi, their success is especially thanks to winning decisive open world battles:
"A good example would be the battle of Shiftrock Well, with about 300 players that participated. The outcome was a massive kill count with few casualties on our side and as a result the ownership of Shiftrock Well."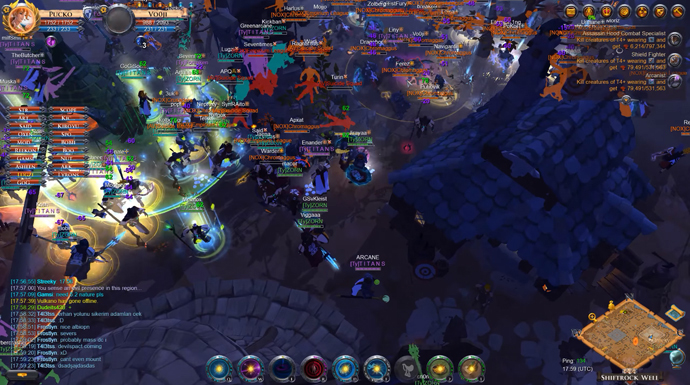 Command and Conquer – The Art of War
One cannot fight without foes around one can fight against. In the first Closed Beta, ZORN fought against a lot of known guilds such as Gentlemen, Chaos, and Banished. Right now, during Final Beta, ZORN has to fend of two other guilds: Chromaggus and Suicide Squad.
"They persistently keep fighting us, despite getting pushed out or being defeated several times as they keep improving," Lugzi explains.
The German guild also found a rival in FINSTACK, not too long after the start of Final Beta. However, with FINSTACK taking a break until release, ZORN quickly became the powerhouse of the North-West.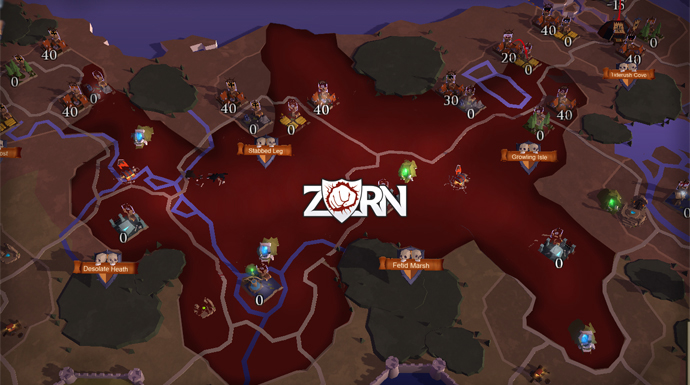 Nonetheless, there is only one guild that may call themselves the true rival of ZORN – the Red Army! Pushed to their limits, ZORN encountered the real power of the Red Army in the second half of the Closed Beta. They had to put in everything they had to withstand the attacks and in the end succeeded in defending their prosperities.
Lugzi proudly added: "The more or less impressive part about the war against the Red Army was, since it took part in the second half of the Closed Beta, we managed to withstand the attacks, of the strongest guild at that time, with only our active core of less than ten members. Not only did we gain lot of experience out of it but our success in the war also created a lot of publicity for us. People got to know the name ZORN more and more. Still, the Red Army was definitely our hardest competition so far. "
Humble Plans of a Force to be Reckoned With
Looking at their success and the achievements ZORN already has piled up for themselves, one might wonder: what does the future have in store?
"We are interested in fighting a bigger variety of guilds, especially from other time zones like the NA, to get as much experience as possible and to measure ourselves with those we have not fought yet. Having outlasted most of the starting competition in the local area makes for a boring game experience in the long run," Lugzi says.
That being said, ZORN is trying to overcome obstacles like the time zone difference or the size of the map. "You want to fight against a good guild with the best you have to offer… but trying to send them across half the continent to fight a GvG at five in the morning is not as easy as it sounds!"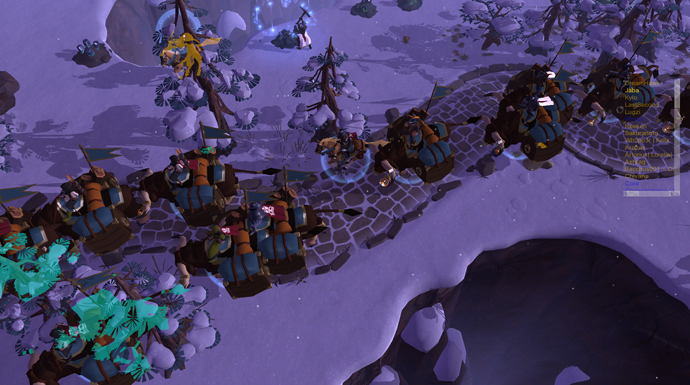 An Announcement for the Rest of Albion!
As a closing statement, Lugzi has an important message for everyone in the world of Albion:
"ZORN will keep being a force to reckon with and we will outgrow ourselves like we always did in the past. I highly recommend everybody to watch out for ZORN!"
Have you already crossed blades with ZORN or encountered them somewhere else? Let us know in the comments below!
---