< Back to overview
Guild Spotlight: Unorthodox Arena
One of Albion's oldest guilds is still going strong and aiming for new heights.
---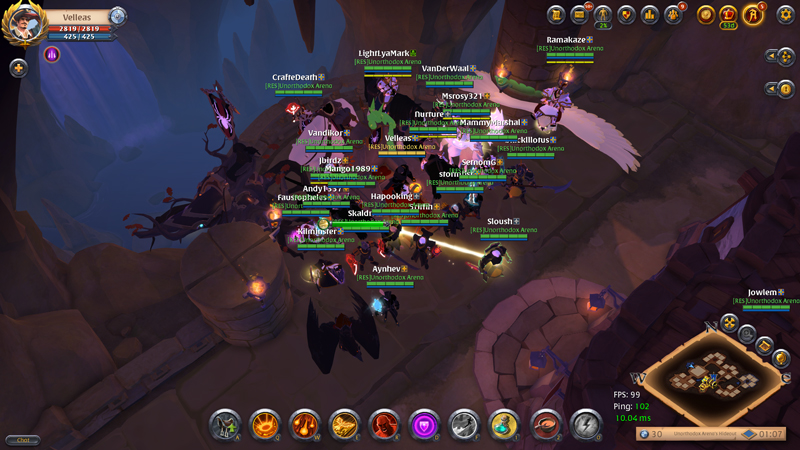 Guild name: Unorthodox Arena
Alliance: Resurgence
Guild leaders: Velleas & Ferrimm
Date founded: First Alpha
Number of members: 270
Primary language: English
Tell us about your guild. What sort of activities do you focus on? What sort of members are you looking for?
We focus on ZvZ/PvP content with a side of PvE to expand our knowledge and level our builds. At the moment, we typically have at least 2-3 ZvZ CTAs everyday; usually at 18, 21, and 0 UTC timers. Occasionally we participate in 3, 5, and 15 UTC battles as well. Due to our international membership, we are active across all timezones, with content almost always happening. Outside of ZvZs, we do weekly Avalonian Dungeons, gank groups, Fame Farms, Hellgates, Crystal League – almost everything the game has to offer.

We are seeking active players who are interested in ZvZ and focused on constantly improving themselves. Everyone has a shared purpose in UA and contributes to our shared goals.
We were founded during the first Alpha. Here's a video of an early GvG:
Where is your guild primarily located? What regions in Albion do you focus on?
We are Thetford-based but exert our primary influence in the Northern Peninsula of the Outlands, where we have made our home for the past couple of seasons.
Do you have any particular rivalries or ongoing quarrels with other guilds?
UA is not a quarrelsome/rivalry focused guild, we tend not to hold grudges after ZvZ battles or during wars. However, we did have a rivalry with Moon Guards/NQRTH, the major Polish alliance in our area. Prior to us joining Thetford Coalition, Moon Guards and their allies had pushed us out of our first Hideout in Northstrand Dunes. Final Order/NQRTH eventually disbanded and Violets re-locked the cities, leaving Thetford Coalition as the victor in the War of the North during Season 9.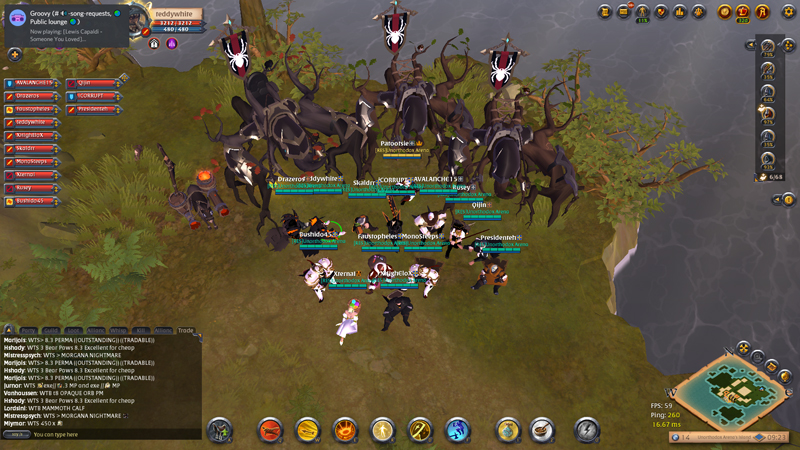 At the moment, we often quarrel with TLI, AW Gaming, Blue Army, and other alliances that encroach upon the Northern Peninsula. Recently, we worked with our coalition allies to push back GML and ARM0R's massive launch on coalition territories. Fighting against these top-tier guilds/alliances almost every day has helped improve the quality of our Guild and Alliance immensely.
What were some of your most memorable battles/activities?
Our first GvG during the Alphas. Our first ZvZ battle in Northstrand Dunes against Zorn. Retaking Timbertop Wood and Northstrand Dunes, battles against the various Polish guilds camping our Hideout, and the massive battles involving our coalition allies, especially when we got our first chance to bomb Final Order and Violets. Our first attempt at an Avalonian Dungeon. The banter between guild members during boar runs for Silver. Our first small-scale fights in the mists when the Rise of Avalon patch launched.
What does your guild do for fun?
Hellgates, ZvZs, Fame Farming, Gathering, Ganking, Guild Events, and memeing around. More importantly, it's the conversations we have and the friendships we build during our time in UA/Albion Online that hold the most weight.
What is your guild's approach to the game? Do you have any sort of overarching philosophy?
Real life comes first. With this in mind, UA fosters a competitive atmosphere with an improvement mindset amongst our players; we are striving to become one of the best international guilds in Albion Online. That said, we don't want the game we love to feel like a job or our members to lose their passion and enjoyment of it. We treat all of our members with respect. We also welcome new players who are still learning, we don't discriminate. Our veteran members are always willing to mentor new members in improving and achieving their goals.
What are your goals for the future? What is your ultimate goal in the world of Albion?
Our primary goal at the moment is to attain Gold rank during Season 10. Ultimately, we want to compete amongst the best ZvZ guilds in the world of Albion, and achieve Crystal Rank.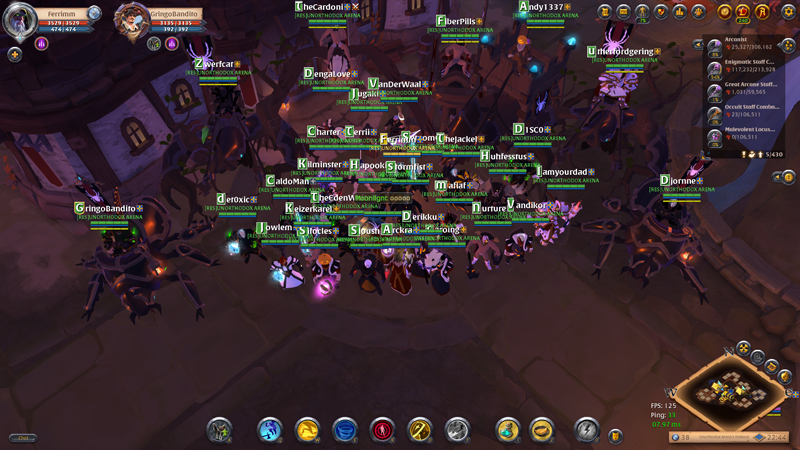 Anything else to share about your guild?
We have full regears for CTAs, a convenient buyback system for buying loot, low guild tax, guild lotteries, incentives for content creation and mage-raiding, and access to dozens of Hideouts around the Thetford portals in the Outlands. Our Requirements are:
10 Mil. Combined PvE/PvP Fame
Discord Mandatory
Be Active
Willingness to attend Guild CTAs
English Comprehension
Improvement/Competitive Mindset (including actively leveling ZvZ/Crystal League builds)
Going back to our roots, we rent to and support newer guilds who are expanding and developing in the Outlands; that's how we got started in Season 9. Players interested in joining Unorthodox Arena can find a link to our discord in our Guild Description - we only accept applications through Discord.
Check out Unorthodox Arena in action:
Unorthodox Arena Recruitment Video:
UA Guild Highlights #2:
UA's Guild Spotlight Video:
---
Latest News
---
Latest Posts
---
Latest Videos
---