< Back to overview
First Look: The Knight Adventurer Bundle
Get a first look at the premier Knight Adventurer costume set coming with the midseason update!
---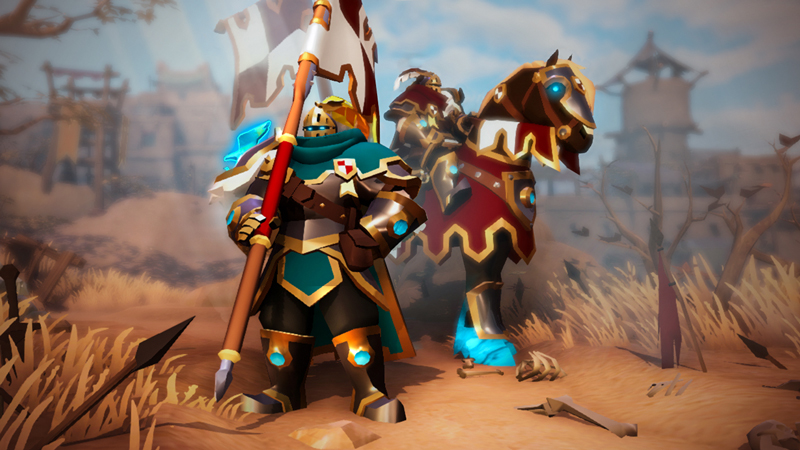 The Brimstone & Mist Midseason Update arrives October 21, bringing numerous additions and improvements to the world of Albion. The update will also introduce the game's second premier costume set: the Knight Adventurer Bundle.
This newest bundle includes ten vanity unlocks with a vivid blue crystal theme that will transform your character into a powerful and mysterious warrior. All the included items can be used on male or female characters, with unique looks (and even unique voices) for each.
Like the Rogue Bundle, this new bundle also includes an Armored Horse Mount Skin with a matching blue crystal theme. On top of that, it also includes guild versions of the Knight Adventurer helmet, armor, cape, and mount skin that allow you to show off your currently active guild logo and colors without dimming the costume's impressive visual effects.
Premium Animated Emotes
The centerpiece of the Knight Adventurer Bundle is the Warbanner, a main-hand costume weapon. The Warbanner includes two premium animated emotes, Honor the Flag and Rally the Troops:

The Warbanner uses the primary weapon slot, and like all other vanity weapon items with unique spells, its spells can be toggled on or off with a special button next to the spell icons.

How to Get the Knight Adventurer Bundle
When the Brimstone & Mist Midseason Update goes live on October 21, this complete bundle will be available in the ingame store for USD $29.95. This bundle includes all currently available Knight Adventurer and Knight Adventurer Guild skin options:
Knight Adventure's Hood, Armor, Boots, and Cape
Knight Adventurer's Warbanner with 2 Premium Emotes
Knight Adventurer's Armored Horse Skin
Knight Adventurer's Guild Helmet
Knight Adventurer's Guild Armor
Knight Adventurer's Guild Cape
Knight Adventurer's Guild Armored Horse Skin
This option offers the best value for those who want all Knight Adventurer items.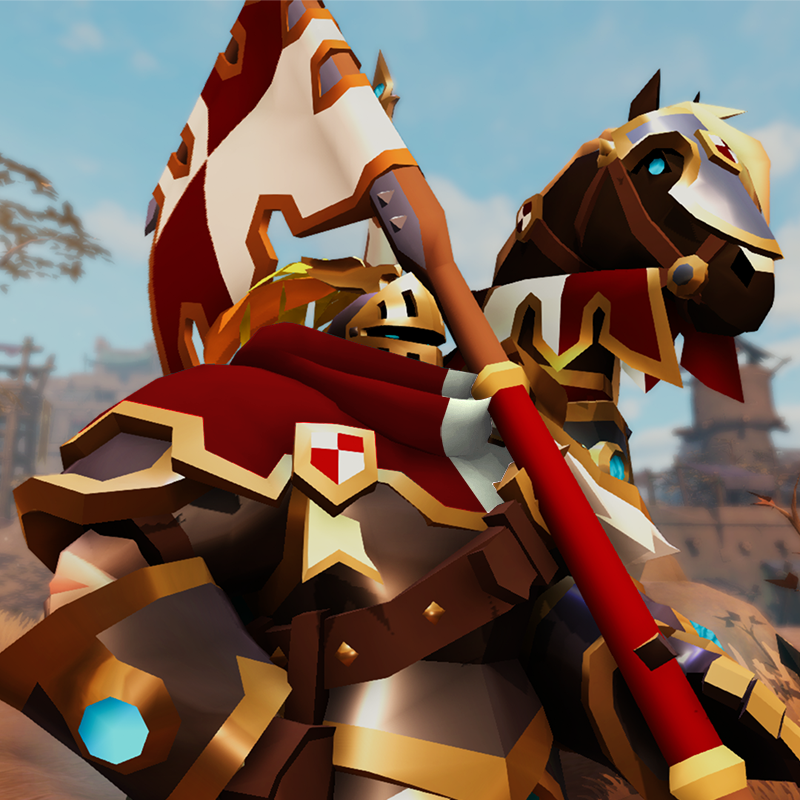 Check out the Knight Adventurer Bundle in the ingame store when Brimstone & Mist goes live on October 21!
---