< Back to overview
On Cross-Platform Development
One of the most exciting features of Albion Online is its cross-platform approach. What challenges and advantages does the development of a cross-platform title offer?
---
Developing Albion Online as a cross-plattform title for PCs, Android and iOS was a very conscious decision. The audience for games has changed, and so has the way in which we play games. Tablets are now a widely spread platform and entertain us during longer train rides, in our beds, at the breakfast table.
At the same time, you had to decide on a different game, once you went to play on your PC. The general idea was that you shouldn't have to. Why isn't it possible to take your game with you? When I approached our Technical Director, David Salz, about the topic, he mentioned that the concept of "platforms" will become less important in the future. He wants to play his favorite game everywhere – on the PC, on the TV or on the tablet. And for that it is important, that the mobile version of a game is not "reduced". A vision we have pursued with Albion Online.
| | |
| --- | --- |
| | David Salz is our Technical Director. He is one of the founders of Sandbox Interactive and is responsible for "everything technical" and he ensures everything runs smoothly. David has been in the industry for more than 15 years. Before he started working on Albion Online, he had his own studio, which mainly devloped titles for the Nintendo DS. |
This vision, naturally, requires more work. If you develop for multiple platforms, you have to cater to their quirks and requirements. This starts with the specs for a PC, you can easily expect 8 or even 16 GB of RAM – for a tablet you're looking at 1 or 2GB, usually.
This poses some exciting challenges and required countless tricks and smart design decisions. "For the art, it meant choosing a style that is timeless and works independently of the platform used and, ideally, of the graphical processing capabilities available," Art Director Marcus Koch explained. "This led to the decision to use a very comicy style. With this exaggerated style, we also ensure clear readability and visibility, no matter if you play on a tablet or a PC screen," he added. "It's very important to us that all platforms offer the same experience."
| | |
| --- | --- |
| Marcus Koch is the Art Director for Albion Online. He has been with Sandbox Interactive from the very beginning and is responsible for Albion Online's unique art style. At 38, Marcus already has 20 years of experience in the areas of game-, cartoon movie-, and comic-art in 2D as well as 3D. | |
From the technical perspective it's important to note that the Unity engine alleviates many of the problems associated with cross-platform development. Without the features of this engine it wouldn't be possible for such a small team to develop a large title like Albion Online for several platforms.

There is also a difference, development-wise, for Android vs iOS. "Apple has strict rules concerning distributing software. We can only offer a finished version in their app-store – thus it is unfortunately impossible to offer an iOS version to our founders during the beta. The advantage of iOS, however, is that there is a very clear-cut set of hardware, for which we develop our client. Android is more open, but offers a wider variety of hardware. The challenge here is to cater to as many different tablets as possible," acording to David.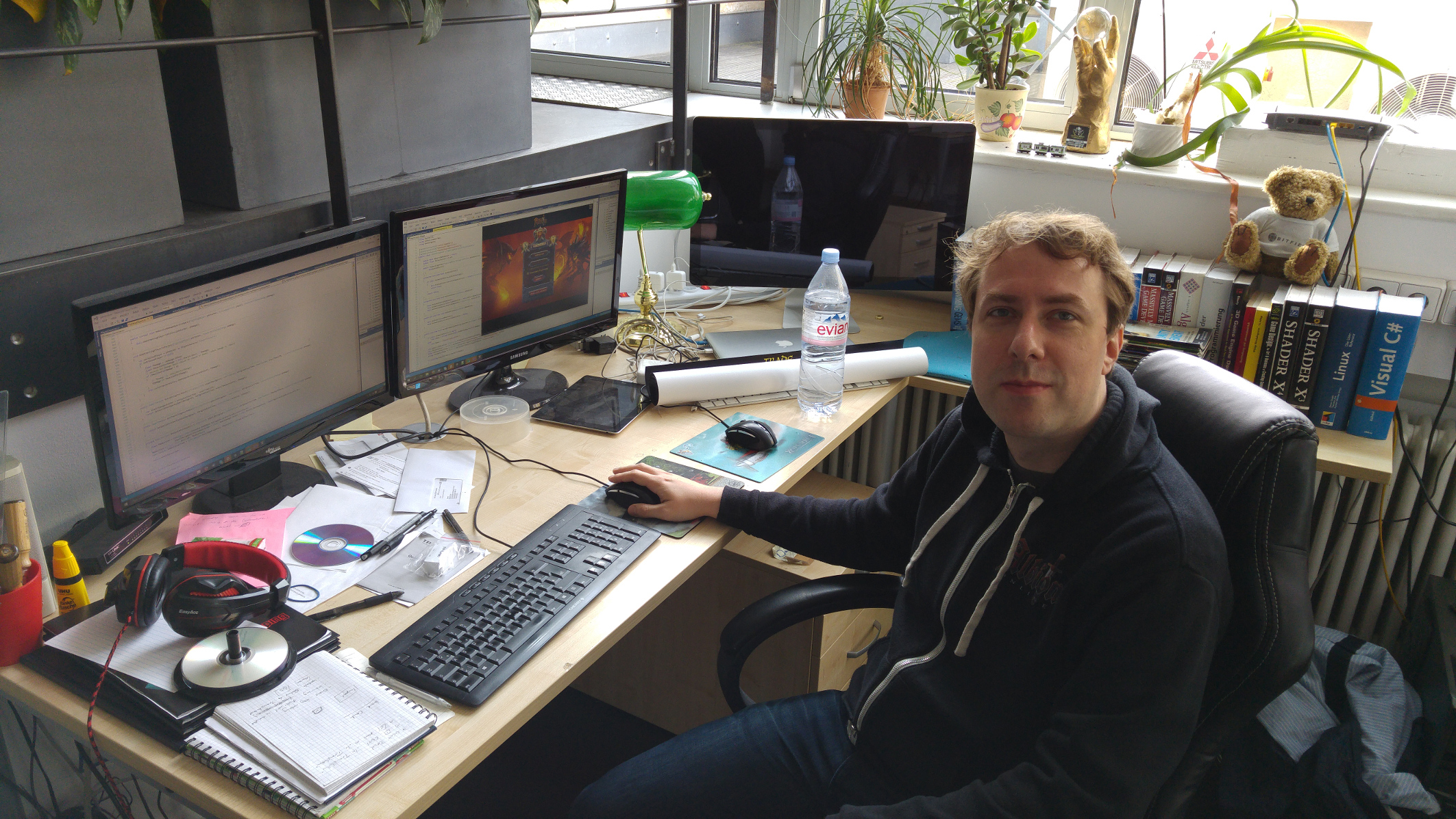 While there are different challenges associated with the different platforms, both our Technical Director and our Art Director agree, that it was the right choice. For Marcus our aim "to create a game that you can bring with you anywhere, to be able to play anywhere and to interact with people from all around the globe in our world of Albion" has been reached.
And David wants "you to be able to play Albion Online whenever you want and whereever you want – without restrictions and on any device. This conscious decision at the beginning of our development was crucial to make Albion Online what it today is – the first true Cross-Platform MMO."
---